This is the real me, RC Hill, III, Owner of RC Hill Mitsubishi-Ocala.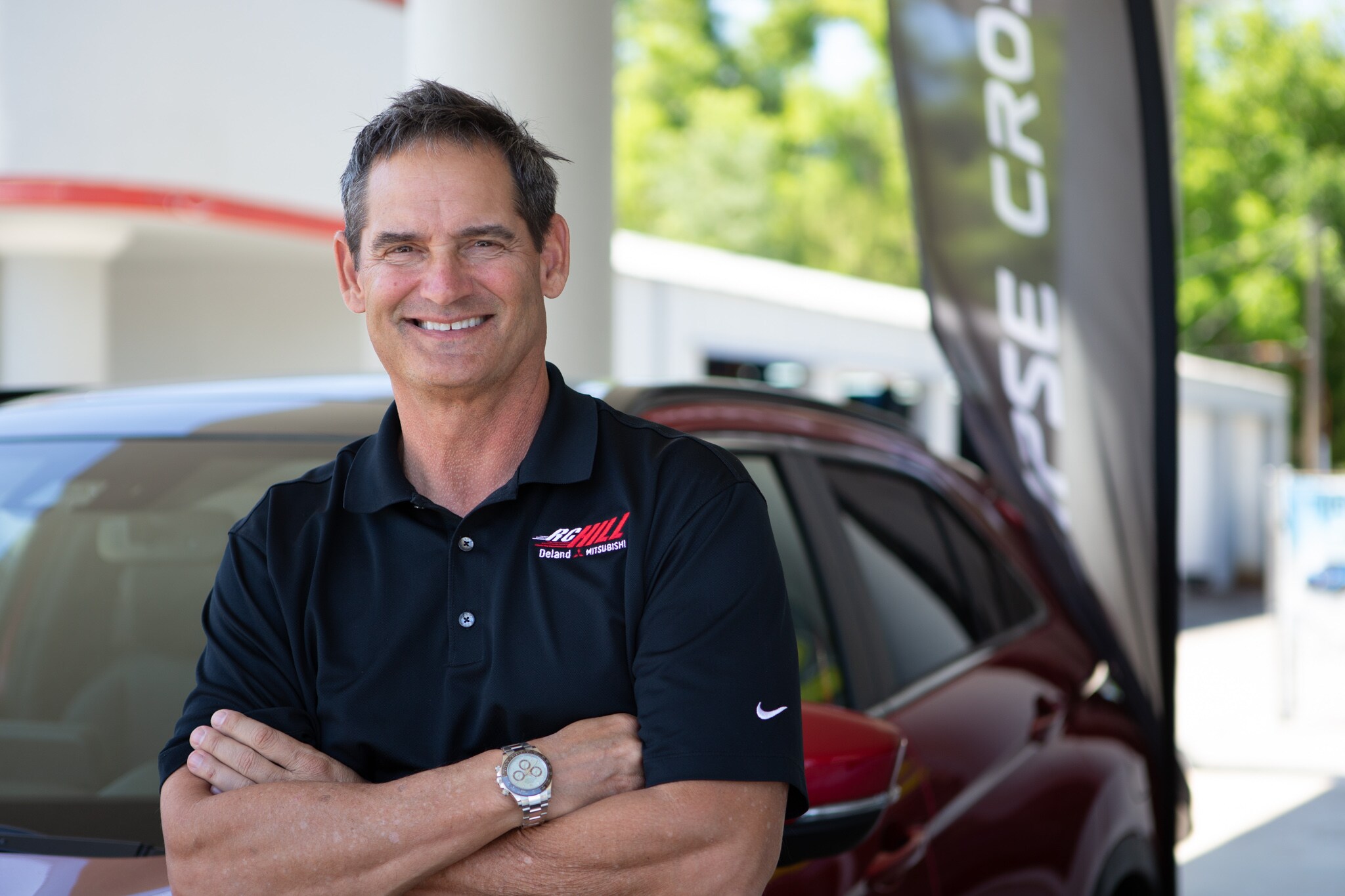 You hear me on the radio, but in real life? I'm dad to 4 amazing children. Husband to Mimi. 
Know this: I love my job. I'm not acting on the radio. I'm just that pumped to be breaking down the stereotypes of car buying and remake the industry. Seriously. I'm trying to bust the negative image of car dealers by infusing honesty and transparency into everything we do.
I know what most people think about car dealers, heck, I know what I think about most dealers. But the R.C. Hill you hear on the radio is the real deal. I'm taking my business smarts, my business background, and my faith-perspective to this business of car selling, and I aim to eliminate the "tarnished" car dealer reputation that plagues my industry.
Here's my story.
Growing up in the auto and motorcycle business, I knew from an early age that a lot of dealers, and even the industry as a whole, have a pretty poor reputation. So, when it came time for me to start my own business, I knew exactly what I did not want to be.
I purposed in my heart to be a different kind of car dealer … to run my business in a different way than I had seen others run theirs. And, that attitude has helped me survive some pretty hard times.
The idea of "The Car Dealer Next Door" actually came from my real next-door neighbor. He's a very busy professional, and since he knew I sold cars, he came to me asking if I could help him with a problem. I said, Sure! He wanted to get out of his commitment, to his then-current car, and buy a vehicle with more storage space and towing capacity. But since he owed more on his car that it was worth, nobody had been able to help him.
So, I did the neighborly thing. I told him I'd see what I could do. After listening to his needs, I got his car appraised, found a vehicle that met his needs, helped him find financing and had the car delivered to him. When it was all finished, he said, "Wow, I wish it was Always this easy." He has been a customer to this day.
That moment was kind of an epiphany for me-it was when I realized that people really want to deal with somebody they Know, Like and Trust. And I wondered, why can't I be that person who goes the extra mile for everyone who needs a car-not just my actual neighbor? Ever since then, I've tried to be "The Car Dealer Next Door" for every single customer who walks through my door. No matter where they come from. Just like with my neighbor, I see my job as helping each and every one of them get what they need in a friendly manner. So that's it, I want to be "your car dealer next-door." - RC Hill, III
My Five Principles of Success
Today, my team and I still strive to consistently go the extra mile for our customers. As "The Car Dealer Next Door," I have a responsibility to serve my neighbors. I want people to feel like they can come to me if they have a problem and I will help them solve it. So I have built my business on the following five basic principles.
If our customers are going to trust me like a neighbor, I need to trust that the staff I've hired to serve them will treat them right-after all, they're an extension of me. So I make sure to hire friendly people that will do business under our philosophy. They are all different people, but I trust that we're all on the same page-we all genuinely try to help our customers, and in order to really solve their problems, we listen more than we talk. It might sound strange, and definitely not like your image of a car salesman, but we actually sell more cars that way.


If I walk into the local grocery store wearing my shirt from the dealership, chances are someone's going to recognize me. When people hear my name, they might recognize it from my radio commercials and associate it with my dealership. That's why I really believe what it says in Proverbs 22:1-that "a good name is more desirable than even great riches." That is why my name is on the dealership, which means that when all is said and done, my name is on the line. So, I make sure I don't do anything that will diminish that name or people's trust in me.


You can look at 10 different things from 10 different angles, but most of the time, there is really only one question you need to ask: "What is the right thing to do here?" When you do the right thing, even if it's hard, things eventually turn out right. I've seen it happen time and time again.

There's a Solution for Every Customer
Every customer who comes to my dealership comes because they have some sort of problem-and it's my job to help them find a solution. So, if they're looking for a specific type of vehicle, if they're having financing issues,or even if the car they want to trade in is upside down, we believe every customer can have a newer nicer car, get great service and get a good deal. And we're dedicated to going the extra mile to make it happen.

Genuinely Try to Help People
It's amazing what you can accomplish when you put your mind to helping others. When you go the extra mile and dedicate yourself to finding solutions for people, they appreciate it and they remember you. To me, that's what it means to be "Your Car Dealer Next Door." Just like the local doctor, I want to be the "go-to" guy that my neighbors can come to whenever they need help.
And word seems to be spreading. We have people coming from farther away-people who live 40 or 50 miles away, drive all the way to our small dealership in our small town. They come all this way just because they want to work with "Your Car Dealer Next Door." But wherever they come from, I make sure my team and I treat them just like my next-door neighbor. We make sure we go the extra mile to find solutions that will put each and every customer in the newer, nicer car they deserve.
Today, our small-town dealership is a top Mitsubishi dealership in the country. Which makes me very proud of our "customer-centric" philosophy and grateful to my neighbors-even the ones who live 50 miles away-who have made me "Your Car Dealer Next Door."
A Dealership You Can Count On
If you are considering getting a Mitsubishi model, visit us at RC Hill Mitsubishi - Ocala and get a chance to experience greatness. At our Mitsubishi dealership serving the Gainesville, Fl area, we are well-known for providing our customers with new inventory and well-maintained used cars.
All in The Villages are welcome to come and purchase either a new or used Mitsubishi today at a great price.
Available Inventory: Reliable & Affordable
Whichever model you pick, either new or used, you'll not be disappointed. They all boast an above-average reliability rating and suitable overall ranking score. We suggest you go for the used Mitsubishi models for those who are budget-oriented because of their affordable price tags. Some of the models you'll come across include Mitsubishi Mirage, Outlander, Lancer, Eclipse, Galant, Eclipse Cross, and many more.
Before we offer our customers the used car models, we always ensure they are well inspected for quality. We sort any arising issue found during the maintenance, ensuring the vehicles are captivating and performing like-new vehicles, contributing to more used vehicles.
Each Mitsubishi model brings along well-tuned interior features that will have your attention and a different powertrain lineup. The Mitsubishi models care for their powertrains by offering an extended warranty coverage for the engines, especially with the used car models. They also offer a limited warranty coverage and complimentary scheduled maintenance that is mainly covered for the first visit and mostly applies to the new Mitsubishi models.
Whether looking for new or used near Belleview, FL, our customer service is always available to attend to you for questions concerning our vehicles. They ensure you are pleased since it is also our priority to give our customers satisfaction.
For more information about our financing options, services, parts and the Mitsubishi models we sell, please browse explore our website. Feel free also to schedule a test drive.